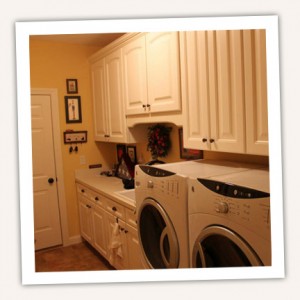 Beacom Construction has several highly qualified, trustworthy contractors. I am usually a do it yourselfer but glad we went with Beacom, they handled every aspect from start to finish in a timely fashion. We definitely recommend Beacom Construction for your future projects.
Charles Lutterloh • Hilliard, OH • Basement Finish
Beacom Construction was what we had hoped for in a general contractor.  Aaron and his staff can be trusted to get the job done right and on time and to communicate any issues promptly as they arise.  That's all that you can ask for in a general contractor.
 Alan and Lynne Parrott • Dublin, OH • Master Bath Remodel
Beacom Construction changed our "basement" into a beautiful lower level living space.  Everyone who enters just says "WOW"!!!!   They completed a number of other projects in our home from cabinets & sink in the laundry room to granite countertops with a tile backsplash in the kitchen, which are equally impressive.  This company (and all who work with them) are the most professional, pleasant people I have ever encountered.  I recommend them without hesitation to everyone I know!!!!
Dave & Peggy Coyle • Hilliard, OH • Basement Finish and Partial House Remodel
Aaron and his team delivered excellent work at a very fair price. He promptly responded to my contact and came out right away to assess my needs. He carefully explained all my options, then proceeded to complete the work with the most careful attention to detail of any contractor with whom I've ever worked. Prompt, pleasant, reliable, and expert…Beacom Construction has earned my loyalty and my business for all my remodeling and construction needs from now on.
Roberta Niche • Galena, OH • Custom Appliance Installation and Electrical Upgrades
I really enjoyed having you as my contractor finish the basement of my new home in Dublin. The plan you drew and executed was very nice. You accommodated me and were able to start according to my schedule. Your charges were very reasonable. I would recommend you to anybody as very reliable, trust worthy and expert contractor.
Dr. Isam Tabbah • Hilliard, OH • Basement Finish
Aaron was our general contractor for a major renovations on the home we purchased which had been vacant for 2 years.  He turned an eyesore into our dream home.  What Aaron and his team didn't do personally, he sub-contracted out and we were equally happy with. We had a extensive list of repairs and improvements which included complete mold remediation and cosmetic repairs (all new carpeting, hardwood floors, paint in all rooms).  There were also major repairs to the plumbing, heating, crawl spaces and insulation, roof leaks, electrical repairs to existing unsafe wiring. All three bathrooms required remodeling and the half bath was converted to a full bath. The pool and pool room needed an enormous amount of work and included pool clean up and repairs. There was an old drop ceiling that needed completely torn out, re-insulated and replaced with a new beautiful tongue and groove hardwood ceiling.  There was also a custom built bar installed and flooring replaced in the pool room. There were many more projects included in our total projects, but they are too numerous to list individually.
Aaron and his team are a great group of people to work with.  Aaron was very careful to stay within the estimates he provided us with, while still bringing issues to our attention and providing us with options to resolve them.  Many things were brought to our attention by Aaron and his team that we would have otherwise overlooked. They worked very hard to meet our move-in deadline due to an expiring lease.  We had very few issues or problems with any of the repairs or remodeling work.  The very few issues we did have, were resolved quickly and without question to our satisfaction and without any extra charges.   We are so pleased with Aaron that we will continue to use him for future projects and already have several slated.
Scott and Lana Runyan • Mt Vernon, OH • House Remodel